Weiterbildungsangebot und Job für Quereinsteiger zum zertifizierten Gerüstbauer (m/w/d)
Tue, 02 Aug 2022 00:00:00 +0200
Zur Verstärkung unseres Teams suchen wir sehr gern Quereinsteiger und Interessierte zur Weiterbildung zum zertifizierten Gerüstbauer (m/w/d) für Auf- und Abbau von Fassadengerüsten, Arbeits- und Schutzgerüste und Sonderkonstruktion. Diese Stelle ist in Zeithain bei Riesa Großenhain zu besetzen. Die Einsätze erfolgen in ganz Sachsen, Mitteldeutschland und bundesweit.


Wir stellen Sie als Quereinsteiger (m/w/d) ein und bieten Ihnen eine Weiterbildung zum zertifizierten Gerüstbauer (m/w/d) an. Unabhängig von ihrer beruflichen oder schulischen Vorbildung, sind uns wichtig:
Sie sind bereit etwas anderes zu lernen und möchten sich neu orientieren
Sie sind zuverlässig und bringen sich gern in die Teamarbeit ein
Sie können handwerkliches Geschick privat oder beruflich nachweisen
Sie haben ein gutes technisches Verständnis
Zwingend erforderlich sind Höhentauglichkeit und körperliche Belastbarkeit
Führerschein der Klasse 2 bzw. C ist vorteilhaft
---
Other current blog posts of the organization
Jobs of Klukas-Gerüste GmbH
Klukas-Gerüste GmbH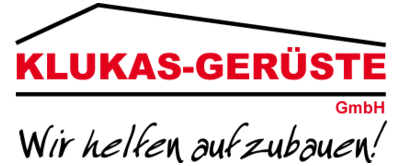 Wir sind das regional führende Gerüstbau Unternehmen aus Riesa – Großenhain. Seit 1992 unterstützen wir bundesweit unsere Partner und Kunden durch unsere Gerüst­bau­leis­tungen bei der Um­setzung ihrer Ziele und Projekte. Dabei gehen wir auf die speziellen Interessen der am Bau beteiligten Firmen ein.