Ausbildung Industriekaufmann (m/w/x) in Chemnitz
Chemnitz

Please apply here on "OFFICEsax.de" with the "Apply Now" link/button at the top right.

Für das Ausbildungsjahr 2020/21 bieten wir einen Platz zur…
Ausbildung zum Elektroniker (m/w/x)
für Automatisierungstechnik
Verbundausbildung mit dem Volkswagen Bildungsinstitut
Deine Aufgaben:
In der dreijährigen Ausbildung durchläufst du alle Bereiche des Unternehmens und entwickelst dich dadurch zum Multitalent
Du bildest die Schnittstelle zwischen Produktion und Verwaltung und lernst alle Produktionsprozesse kennen
Du erfährst im Marketing, wie man spezielle Zielgruppen anspricht
Du lernst die Logistikkette kennen, ermittelst im Einkauf Bedarfe, bearbeitest Aufträge im Vertrieb
Kaufmännisches Denken und Handeln ist Teil deiner Ausbildung in der Buchhaltung und im Controlling
In der Personalabteilung ermittelst du Personalbedarfe und bist für die Betreuung des Personals zuständig
Dein Profil:
Du hast einen Realschulabschluss, Fachhochschulreife oder Abitur
Deine Noten in Mathematik und Deutsch sind gut
Du hast ein Talent für Sprachen, das Englisch steht dabei im Vordergrund
Du interessierst dich für kaufmännische Vorgänge und das aktuelle Wirtschaftsgeschehen
Du hast ein logisches Denkvermögen und bist IT-affin
Du hast Spaß an der Arbeit im Team
Wir bieten:
Den Einstieg in spannende Arbeitsgebiete
Erfahrene und engagierte Ausbilder
Vielfältige Weiterbildungsangebote
Verschiedene Benefits, wie z.B. Sportgruppen, hauseigenes Beachvolleyballfeld, kostenfreie Getränke
Möglichkeit der Übernahme in ein unbefristetes Arbeitsverhältnis
Du hast Fragen zum Job? Dann freuen wir uns über Deinen Anruf unter 0371-40043-908 bei Josefine Fiedler, Personalreferentin.
Interessiert? Dann sende uns Deine aussagekräftige Bewerbung unter Angabe der Kennziffer PA-03-20 und Deiner Verfügbarkeit – gerne per E-Mail*.

* Wir weisen darauf hin, dass eine Datenübertragung per E-Mail unsicher und daher vor allem für allgemeine Anfragen geeignet ist. Es kann nicht ausgeschlossen werden, dass auf diesem Wege übermittelte Daten von Unbefugten gelesen, kopiert, verändert oder gelöscht werden.
PDF Download
Brief profile of 3D-Micromac AG
Die 3D-Micromac AG ist der führende Spezialist für Lasermikrobearbeitung.
Wir entwickeln Verfahren, Maschinen und komplette Anlagen auf höchstem technischen und technologischen Niveau. Unser Anspruch ist es, die Wünsche unserer Kunden auch bei komplexen Projekten perfekt zu erfüllen.
3D-Micromac steht für leistungsfähige, anwenderfreundliche und zukunftsorientierte Prozesse mit größter Produktionseffizienz. Durch unsere Technologien werden Innovationen verfügbar – und das weltweit.
Wir haben stets die neuesten Forschungsergebnisse im Blick, und verknüpfen sie in unserer täglichen Arbeit mit den Anforderungen unserer Kunden aus der Praxis.
Innovative Unternehmen brauchen innovative Mitarbeiter – Wir vergeben an ambitionierte Persönlichkeiten ständig interessante Jobs, Praktika und Diplomarbeiten in allen Unternehmensbereichen.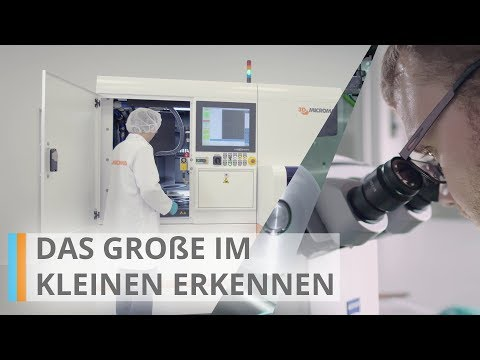 Publication date: 07-01-2020