Zeithain bei Riesa Großenhain
Praktikant/ Werkstudent (m/w) Unternehmenskommunikation, Newsmanagement, Texte schreiben - Zeithain bei Riesa Großenhain
Zeithain

Please apply here on "OFFICEsax.de" with the "Apply Now" link/button at the top right.

Die Klukas-Gerüste GmbH sucht einen Praktikant/ Werkstudent (m/w/d) Unternehmenskommunikation. Sie arbeiten gemeinsam in einem erfahrenen Team direkt mit dem Geschäftsführer zusammen. Sie sind zuständig für die kommunikativen Aufgaben und gestalten die Unternehmensentwicklung aktiv mit. Sie arbeiten regelmäßig in Zeithain bei Riesa und einiges kann von zu Hause aus erledigt werden. Hauptteil Ihrer Arbeit ist die Erstellung eines Kommunikationsplans und dessen Umsetzung über die Unternehmenswebseite sowie über die Präsenzen in unsere Sozialen Medien.

Ihre Aufgaben als Praktikant/ Werkstudent (m/w/d) Unternehmenskommunikation
Kommunikative Vor-und Nachbereitung von Events
Erstellen von News, Webseiten-Inhalten und Präsentationen
Medienbeobachtung und eigenständige Recherche und Analyse zu den Themen Personal und Bewerbung
Erstellen von Newslettern
Redaktionelle Betreuung der Social-Media-Portale
Aufbau und Betreuung von Medienkontakten
Ihr Profil
Studium der Germanistik, Sprach-und Kulturwissenschaften, Unternehmenskommunikation, Kommunikationswissenschaften, Betriebswirtschaft oder oder einer artverwandten Fachrichtung
Kenntnisse im Verfassen von Pressemitteilungen und deren online und offline Verbreitung (Pressearbeit)
sehr gute Deutschkenntnisse und redaktionelle Kenntnisse in der Erstellung von Texten
grundlegende HTML Kenntnisse für die Redaktionsarbeit in Content Management Systemen sind von Vorteil
Interesse an den neusten Online-Aktivitäten
Hohe soziale und kommunikative Kompetenz
Hohe Eigeninitiative und selbstständige sowie strukturierte Arbeitsweise
Als Praktikant (m/w) sollten Sie uns für mindestens 3 Monate (Vollzeit), als Werkstudent (m/w) mindestens 6 Monate zur Verfügung stehen können. Wir vergüten mit brutto 12€ pro Stunde.
content management, Unternehmenskommunikation, newsletter, Social Media, Pressearbeit, Texten, Bloggen, Redaktion, Zeithain, Kommunikation, OFFICEsax.de, Empfehlungsbund
This Internship resp. apprenticeship as 'Praktikant/ Werkstudent (m/w) Unternehmenskommunikation, Newsmanagement, Texte schreiben' is vacant in following addresses: 01619 Zeithain bei/in Meißen in Sachsen.
Brief profile of Klukas-Gerüste GmbH
Wir sind das regional führende Gerüstbau Unternehmen aus Riesa – Großenhain. Seit 1992 unterstützen wir bundesweit unsere Partner und Kunden durch unsere Gerüst­bau­leis­tungen bei der Um­setzung ihrer Ziele und Projekte. Dabei gehen wir auf die speziellen Interessen der am Bau beteiligten Firmen ein.
Als stark wachsendes Unternehmen unserer Branche sind wir immer auf der Suche nach talentierten und handwerklich begabten Mitarbeiter zur Unterstützung unseres Teams. Sollten Sie Interesse am Gerüstbau als Gerüstbauer bzw. Kolonnenführer haben, gern auch als Quereinsteiger, freuen wir uns auf Ihre Bewerbung.
Unsere Mitarbeiter sind zuverlässig und besitzen ein hohes Maß an handwerklichem Geschick, außerdem sind sie teamfähig und stellen ihre Lernfähigkeit in regelmäßigen Schulungen unter Beweis. Die Kompetenzen unserer Mitarbeiter liegen typischerweise im Ausüben von Handwerks- und Bauberufen. Wir geben auch ungelernten die Möglichkeit Erfahrungen im Gerüstbau zu sammeln und eine Gesellenausbildung durchzuführen.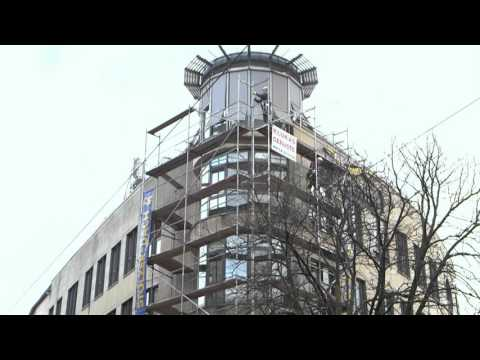 Publication date: 21-01-2022