Warm-up-Treffen zum 11. Leipziger Personalforum
Mon, 04 Nov 2019 09:17:56 +0100
Nach dem großen Erfolg im vergangenen Jahr laden wir auch 2019 herzlich am Vorabend zum Warm-up-Treffen in lockerer, kreativer Atmosphäre für Aussteller, Referenten und Teilnehmer des 11. Leipziger Personalforums ein. Das Warm-up findet am Mittwoch, den 6. November 2019, ab 18.30 Uhr in den inspirierenden Räumen der design2sense GmbH (Prellerstraße 54, Leipzig) statt.
Bei einem Imbiss und erfrischenden Getränken wollen wir den Abend für einen ersten unkomplizierten Austausch und das gegenseitige Kennenlernen nutzen.
Herzlichen Dank an unsere Gastgeber, die Sie hier online schon jetzt näher kennen lernen können: Link design2sense GmbH.
Gastgeber des Warm-up-Treffens: design2sense – Die Arbeitsweltverbesserer
---
Other current blog posts of the organization
Leipziger Personalforum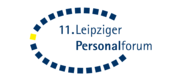 Auf dem Leipziger Personalforum, das am 7. November 2019 zum 11. Mal stattfindet, werden neue Entwicklungen, Ideen und Praxisbeispiele für eine erfolgreiche Personalarbeit vorgestellt und Führungskräfte mittelständischer Unternehmen und Personalexperten zum Erfahrungsaustausch zusammengebracht. Das Leipziger Personalforum ist eine gemeinsame Veranstaltung der IHK zu Leipzig und dem Unternehmerverband Sachsen in Zusammenarbeit mit der ZAW Leipzig GmbH und der Agentur gala royale – special events (Konzeption und Projektkoordination).