Besuchen Sie uns auf der connect exhibit & conference 2019!
Fri, 12 Apr 2019 00:00:00 +0200
Faltbare Smartphones, vernetzte Autos und fliegende Taxen: Vom 2. bis 5. Mai 2019 präsentiert die connect-ec im Kongresszentrum in Dresden Trends rund um die mobilen Themen der Zukunft. Auch KOMSA ist bei der Premiere in Dresden dabei.
Am KOMSA-Stand (Saal 1, Standnummer S12) erwartet Besucher eine Smart Home-Welt mit Produkten rund ums vernetzte Zuhause. Hier können Handelspartner vom KOMSA-Know-how profitieren, zu Lösungen ins Gespräch kommen und sich Impulse für die Vermarktung holen.
Zudem ist das Team von repamo.com im Einsatz und wird live auf der Messe ausgewählte defekte Smartphone-Modelle reparieren. Für alle, die eine günstige Alternative zur Neuware suchen, sind mit smallbug.de auch unsere Spezialisten für wieder aufbereitete Gebrauchtwaren vor Ort. Informieren Sie sich zudem direkt vor Ort über die aetkaSMART Flat-Tarife, welche sich sowohl an Businesskunden als auch an Privatkunden richten. Am 2. und 3. Mai bietet connect-ec speziell für Fachbesucher ein Konferenzprogramm mit Themen rund um Mobilfunknetze, Smart Home, Car Connectivity, Security und Elektromobilität. Teilnehmer können sich auf die KOMSA-Keynote zu neuen Geschäftsmodellen mit Smart Home und 5G freuen.
Programm und Tickets finden Sie auf der Veranstaltungsseite. Wir freuen uns auf Ihren Besuch!
---
Other current blog posts of the organization
KOMSA Kommunikation Sachsen AG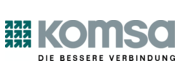 KOMSA ist einer der führenden Dienstleister der Informations- und Kommunikationstechnologiebranche (IKT) in Europa. Wir sind Spezialist in den Kernbereichen Distribution, Integrierte Dienstleistungen und Reparaturservice und dabei Partner aller namhaften Hersteller und Netzbetreiber der Branche. Unseren Handelspartnern bieten wir Produkte und Lösungen aus einer Hand, unseren Industriepartnern einen channelspezifischen Absatz ihrer Ware und die Übernahme von damit verbundenen Dienstleistungen. Beiden garantieren wir effizienten Support in bester Qualität zu besten Kosten. Als KOMSA-Gruppe mit unseren Tochtergesellschaften bedienen wir mehr als 10.000 Reseller, davon über 4.500 Fachhandelspartner und Systemhäuser.