Kundenkommunikation via Social Media leicht gemacht
Tue, 19 May 2020 17:01:24 +0200
Viele Unternehmen stehen im Moment vor großen Herausforderungen. Auch in Sachen Kundenkommunikation mussten und müssen viele in Zeiten der Pandemie umdenken. Denn die klassischen Offline-Kontakte zu Kunden und anderen Stakeholdern sind plötzlich komplett weggefallen und Alternativen mussten her. Aber welche Möglichkeiten gibt es hier? Ist Social Media eine (dauerhafte) Lösung?
Der Beitrag Kundenkommunikation via Social Media leicht gemacht erschien zuerst auf Wir sind Ihr Fachkräftesicherer!.
---
Other current blog posts of the organization
familienfreund KG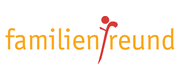 Die familienfreund KG versteht sich seit der Gründung im Mai 2006 als zentraler Ansprechpartner für alle Fragen der Mitarbeitenden und deren Angehörigen. Als Serviceunternehmen für die Vereinbarkeit von Beruf und Familie ist die familienfreund KG gern verlängerte Werkbank der Personalabteilung und Geschäftsleitung. Neben der Neuentwicklung und Umsetzung von mitarbeiterunterstützenden Vorhaben und Angeboten bietet das Spezialistenteam weitere Leistungen zur Unterstützung der Mitarbeiterfreundlichkeit und damit auch zur Mitarbeiterbindung.