Netzwerktreffen Personal am 20. Februar – "Von der Gruppe zum Team"
Mon, 10 Feb 2020 14:55:02 +0100
Am 20. Februar wollen wir uns gemeinsam zum Thema "Von der Gruppe zum Team – wie bilde ich ein Team und wie führe ich es?" austauschen.
Wir freuen uns sehr auf das erste Treffen in neuen Jahr und hoffen auch diesmal auf viele angeregte Gespräche, einen intensiven Austausch sowie alte und neue Kontakte.
Nicole Arnold, HR-Managerin von PLUSPOL interactive wird mit einem Impulsvortrag Einblick in ihre Erfahrungen geben.
Bitte beachten Sie den geänderten Veranstaltungsort!
Ablauf:
ab 18.00 Uhr Einlass
18.30 Uhr Begrüßung, Impuls und Gesprächsrunde
19.45 Uhr Wechsel ins nahegelegen "OSKAR" (150 m entfernt, Harkortstraße 21)
ab 20.00 Uhr Erfahrungsaustausch beim gemeinsamen Abendessen (Selbstzahler á la carte)
Sie interessieren sich für eine Teilnahme, aber haben keine persönliche Einladung zum Netzwerktreffen erhalten? Senden Sie mir (Maria Sharichin) gern eine Anfrage an: kontakt@netzwerktreffen-personal.de
Link Überblick Netzwerktreffen Personal
Link Rückblick Netzwerktreffen Personal 1 – 14
---
Other current blog posts of the organization
Leipziger Personalforum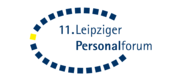 Auf dem Leipziger Personalforum, das am 7. November 2019 zum 11. Mal stattfindet, werden neue Entwicklungen, Ideen und Praxisbeispiele für eine erfolgreiche Personalarbeit vorgestellt und Führungskräfte mittelständischer Unternehmen und Personalexperten zum Erfahrungsaustausch zusammengebracht. Das Leipziger Personalforum ist eine gemeinsame Veranstaltung der IHK zu Leipzig und dem Unternehmerverband Sachsen in Zusammenarbeit mit der ZAW Leipzig GmbH und der Agentur gala royale – special events (Konzeption und Projektkoordination).