3 Bautzen Jobs and trainings
Here you find 3 Jobs and trainings to Bautzen. Add matching Bautzen Jobs and trainings to your saved list. Use your chance to apply for all those Jobs and trainings simultaneously. The most relevant ads are shown first.
itelligence Global Managed Services GmbH
Dresden and Bautzen – 09-07-2018
Für die Standorte Bautzen, Dresden Ihre Aufgaben bei itelligence: Erstellung und Analyse von Kunden- und Projekt-Reporting zur Bewertung der Profitabilität aktueller und zukünftiger Kundenprojekte in internationalem Umfeld Definition von [...] Teamorientierte Unternehmenskultur, geprägt von flachen Hierarchien Sichere Perspektiven durch strategisches Wachstum und starke Partner Office, Bautzen, Dresden, Projektcontrolling, Kundenreporting, Projektreporting, Geschäftsprozessoptimierung, Budgetierungsprozesse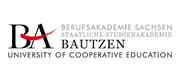 Berufsakademie Sachsen, Staatliche St...
Bautzen – 17-10-2018
... /studiengaenge/public-management/firmenliste-pm-cd/ Vorteile des Studiums an der BA in Bautzen individuelle Betreuung durch kleine Seminargruppen und seminaristische Lehrform  keine Studiengebühren oder Gebühren für das Studentenwerk  Ausbildungsvergütung
Geschäftsstelle
Bautzen – 18-10-2018
... Der Arbeiterwohlfahrt Kreisverband Bautzen e.V. sucht ab sofort einen   Personalsachbearbeiter (m/w) mit einer Arbeitszeit von 30 h pro Woche zur Mutterschutz-/Elternzeitvertretung (mit Option auf Verlängerung). Ihre Aufgaben
Your search yields not the right results?
Make sure that there are no typing errors or apply here unsolicited
We also found 1 archived job listings matching your search criteria. If you have applied for any one of those jobs recently and you can't find the job ad above, click here to extend the search to all archived job classifieds.